The AMPED™ Invikta brings an increased sweet spot size compared to traditional elongated paddles, along with a long handle for full court and full power with all of the control of our Polypropylene X5 Core™ Technology and our FiberFlex™ fiberglass surface working for you. It is the brainchild of National Champion Tyson McGuffin. This is the weapon of choice for conquerors of the court! With the Invikta's lightweight version averaging 7.3-7.6oz, you are sure to see improvements with your reaction time at the net.
COMPARE SHAPES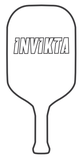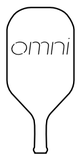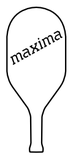 How does the Invikta compare to the Omni? The Invikta is the same overall width and height as the Omni. However, it has a longer handle than the Omni. If you play with your finger on the paddle face, the Omni is the paddle for you. However, if you prefer a longer handle, like many tennis players do, take a look at the Invikta.
How does the Invikta compare to the Maxima? The Maxima is longer than the Invikta, but the Invika is slightly wider than the Maxima. So you have to choose between extra reach with the Maxima or more consistency with the Invikta.
Invikta Benefits:
Sweetspot size: 8
Long Reach
Long Handle (5.25")
Invikta Player profiles:
"I want an elongated paddle with a long handle and large sweetspot"
"I'm a Tennis Player who wants more consistency than a traditional elongated paddle"
"I need more reach"
Details
Skill Level: Intermediate to Pro
Height: 16.5"
Width: 7.375"
Grip Length: 5.25"
Grip Circumference: 4 1/8 - 4 1/4"
USAPA Approved
Technology
Core: X5TM Polypropylene Polymer Core
Face: FiberFlexTM Unidirectional Face
Design: Unibody design for durability and performance
Edge: EdgeSentryTM
Grip: Selkirk ComfortGripTM
Weight Options:
Lightweight (7.3 - 7.6oz) ~ Faster Reaction Time (lighter colours)
Midweight (7.9 - 8.3oz) ~ More Power (darker colours)